Most of the friends I keep in everyday contact with are long-distance. Most of our communication has been over the web even before the pandemic, so nothing changed about our relationships. However, we all get bored very easily, and we're all pop culture consumers. So, even though my friends and I are all adults, we regularly get together over social platforms like Discord or Skype and play games like Among Us.
InnerSloth created an Among Us twitter account fairly recently, and it has already amassed a following of 1.1 million people. The following things stood out to me from their Twitter profile.
– Lots of human personality in their posts, including outward appreciation for their audience.
– Incredible amount of interaction with their followers. Just take a look at their Tweets with Replies tab.
– Creative images in posts. Take a look at their Media tab.
– Collaboration with other companies for products their demographic are likely to also enjoy.
– They indulge in their audience's "online culture"
– Highlighting talented followers through retweets.
– Overall making their social media page as fun to follow as their game is to play.
It was much harder to find an example of a poor social media presence because, as a consumer, I tend to not follow bad social media profiles. Or if I find one, I click away and immediately forget the company. I had to turn to Google to find an example of a struggling social media presence, in hopes of jogging my memory about a social media profile I had encountered before. I did not find exactly what I was looking for, but in my search, I came across a story about a social media failing from DiGiorno Pizza that caught my attention and wanted to talk about.
According to NR Digital Branding's article on Bad Social Media Marketing, in 2014, DiGiorno Pizza used a trending hashtag on Twitter to promote their product. This isn't necessarily a bad marketing move, looking at the situation at face value, until you understand what the hashtag DiGiorno appropriated was actually about.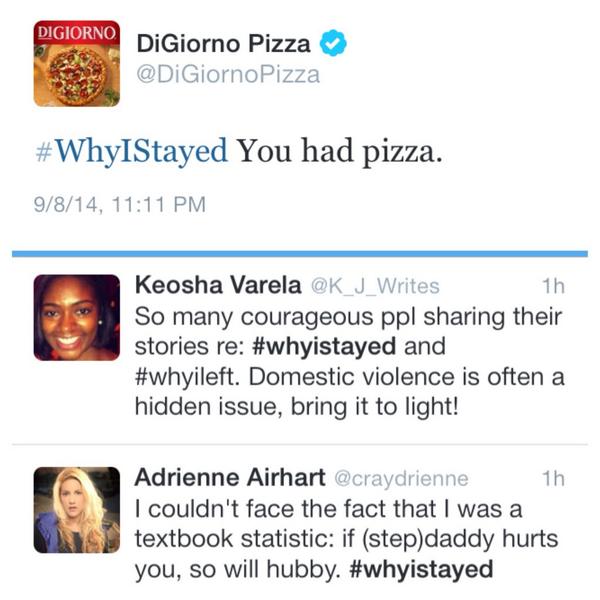 Even without knowing the full context, I understood what this hashtag was supposed to be about – domestic violence. Evidently, the person who made this mistake did not look into the hashtag before posting, which seems somewhat mind-boggling to me. This speaks of a few failings on DiGiorno's part: failing to research their marketing and knowing what audience their post would reach, as well as failing to maintain professional standards in their response. The "apology spree" (Radenovic, 2020) that occurred after this post is very telling of this employee's social media skill. We all make mistakes, but this one surely could have been prevented with very little effort.
References:
Among Us [@amongusgame]. (2021, February 16). DON'T MIND ME JUST VERY EMOTIONAL OVER HOW SUPPORTIVE AND NICE EVERYONE IS. [Tweet]. Twitter. https://twitter.com/dualwieldstudio/status/1361801962178584582
Among Us [@amongusgame]. (2021, February 16). Roll a natural Crewmate with these new official @AmongUsGame dice by @thebluemimic! [Tweet]. Twitter. https://twitter.com/AmongUsGame/status/1361775235914203142
Among Us [@amongusgame]. (2020, December 16). Perfect. [Tweet]. Twitter. https://twitter.com/AmongUsGame/status/1339404657580453889
Radenovic, N. (2020, March 27). Bad Social Media Marketing Examples: 4 Real-Life Brands. Retrieved from https://nrdigitalbranding.com/blog/bad-social-media-marketing-4-business-examples/