In 2014, Facebook rolled out the "trending" feature to assist people in finding interesting, relevant topics as they browsed through their newsfeed. The "trending" section was only made available in five countries – the United States, Canada, the United Kingdom, India, and Australia.
At the time of its launch in 2014, the ultimate goal of the trending section was to encourage more public sharing and to provide Facebook users with more conversation topics online. Ultimately, Facebook wanted to become "THE" website – blending the concept of a social media network with the reputation of a credible news source.
As I'm sure you recall, the trending section provided personalized lists of the most popular topics with short explanations beneath each topic. The topics shown were based on the following factors:
Your interests
Who is commenting on a topic
How recently a topic has spiked in popularity on Facebook
The engagement from your Facebook friends on a specific topic
Users were able to click on each trending topic to see a wide range of public posts, articles, and mentions from friends.
However, earlier this month, Facebook removed the trending feature from the social network as a means to mitigate fake news from appearing on peoples' newsfeeds, and to "make way" for future news experiences on Facebook.
Nowadays on social media, users tend to acquire news (or really any other content) through videos. Facebook has taken this finding into consideration and is now exploring new and innovative ways for its users to remain informed from trustworthy sources in a timely manner, and to have a positive mobile experience overall, as they scroll through their personalized feeds.
For me, personally, I miss the trending feature and without it I feel out of the loop!
Why, you ask?
Convenience! I'm not someone who goes out of their way to check the news (and maybe I should be at this point in my life) and when I have Facebook open all day for my job, it was nice to see what was going on day by day while still using Facebook for its intended purpose.
The power of video. A lot of the videos that I do see on my timeline, which for the most part are amusing and entertaining, aren't really "newsworthy", but I like it that way; this separates the "social" and fun aspect of the social network from the "news source" aspect that Facebook wishes to achieve.
Facebook (for me at least) = mindless scrolling. When I scroll through my Facebook feed, I'm seeing what my friends and family are up to, looking at pictures, watching videos of Crusoe the Celebrity Dachshund (don't judge me, he's great and I recommend giving his page a 'like') – pretty much any task that doesn't require much thought but still keeps me connected.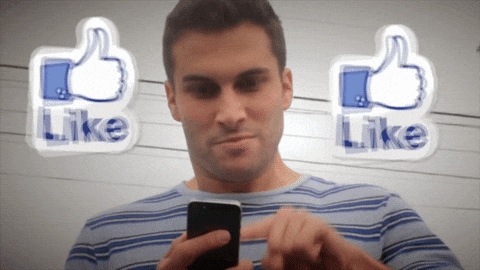 So, this leads me to ask: what are your thoughts on this recent change?
Are you glad the trending section has been removed? Are you indifferent?
Do you think blending news and social media onto your timeline will keep you more informed on current events? Or would you prefer to use to a separate, well-known news source and have Facebook remain a social tool – and nothing else?
Twitter Promotion
Are "trends" too mainstream for social media? See what steps Facebook is taking: https://bit.ly/2t6sdKV
Facebook Promotion:
Facebook scrapped the trending feature. Find out why this matters to some: https://bit.ly/2t6sdKV
Media Sources
Featured image – https://www.pexels.com/photo/photo-of-laptop-near-plant-927629/
"Trending" gif – https://gph.is/2dhSA72
"Like" GIF – https://gph.is/1pptU1s