This past week I was in Vancouver attending the World Conference on Drowning Prevention.  This was the largest gathering with over 850 delegates, and a waiting list to attend.  This conference is a gathering of like minded people and organizations that are tackling the leading cause of accidental death of children under the age of 5 and the third leading cause of all deaths world wide.
Each day started with a plenary session of main speakers, ranging from leaders in the World Health Organization to Doctors Without Boarders.  This one particular morning started off much differently.  The speaker was introduced only by name, without an official title.  She did not stand behind a podium as the others had with a power point presentation full of informative slides full of statistics.  She somberly walked back and forth on the stage, speaking of her own journey. Her journey of leaving Syria, a country she loved, a country that was full of beauty, a country full of her family.  This was a country she was forced to leave because of war, death, poverty and people full of desperation and survival.  She came to Canada to seek a better life.
Tima arrived in the early 2000's,  and for many years she applied to have  her brother's family find refuge for his family here in Canada.  After all applications were exhausted and after her brother explored many venues he deiced to make a fateful decision.  He would pay illegal smugglers, thousands of dollars to take his wife and 2 sons on a boat to Greece.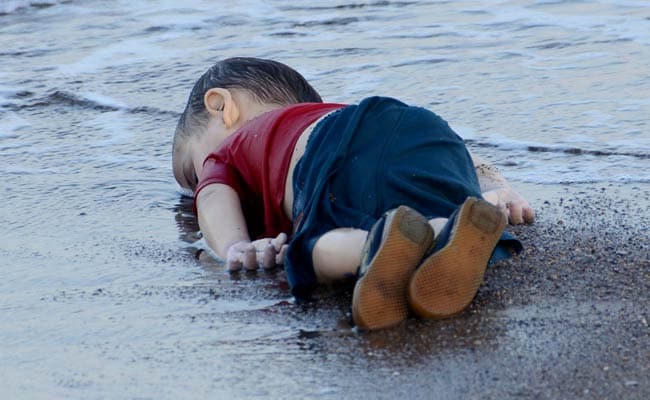 This is what he woke up to find all over the news media.
There is not a person that I know that does not recognize this photo.  Tima explained the heart wrenching pain that the family has gone through.  Her brother was devastated and grief ridden, so much so that many of us cannot imagine-and thankfully we as Canadian's we will never have to face anything like this.  As Tima continued to speak of how the family tried to navigate this new world of trying to mourn the death of these 2 boys and their mother, and how to try and do it with one of the most iconic pictures of this decades media continually bringing it to the front pages of the media.
I have never been in a room where the pulse of the people was so visceral.  As we are all proponents of drowning prevention, her personalized story will never leave me or any one else in that room as a person.  She continued to speak about her brothers extreme grief, about the continued struggle to survive.  As I did have an opportunity to speak with her alone later that day and she was completely exhausted.  She says speaking out is both what she needs to do, but also has her reliving the death of these little souls over and over.  I told her that I commended her and admired her incredible strength.  This kind of strength  is something that all of us can only imagine as it comes form some source of power humans receive when needed, and hope we never need to call on it.
Tima had challenged us, a room full of advocates for drowning prevention, to make a change in the unaccounted thousands of people who drown every day trying to flee their countries because of war, poverty or persecution.
The next morning during plenary session, Dr. Steve Beerman took the stage,  He simply stated that Time had challenged us and we as a world group would take the challenge.  We are now in the process of tackling how we reach governments to aid in the drowning issues of refugees.
There are a documented 87 people who drown every hour in the world.  This number does not include those in low income countries where victims of floods and other natural disasters and refugees are unaccounted for.
We have received the challenge and accepted!
     We need to bring attention to the drowning victims in the Mediterania 
   Canada accepts Lima Kurdi's challenge to help refugees